If you're familiar with Fi, and you're in the digital industry, you've likely wondered what it might be like to work here. We're not going to waste your time with a fluff piece. You've seen our work and the results speak for themselves. So, might joining us be your best next career move? Read on and decide for yourself.
1. Our creative process is driven by collaboration and cross-pollination.
Our process is collaborative from the start, and there is no formal hierarchy among the teams. Sure, we have our Global Directors at the top, but there's no attitude, and everybody works side-by-side each day with one goal in mind: Deliver the absolute best experience possible, for the user and the client. Right from kickoff, Production, Account, UX, Visual Design and Tech teams all work collaboratively throughout the process to ensure we're incorporating the very best ideas, no matter from whom they came.
2. Our work makes a difference on the broader web.
These days, launching a digital project is becoming standard for most companies. What really gets us out of bed in the morning is the opportunity to create something truly meaningful; an experience that informs, delights and excites the audience, and the world at large. Sometimes it's partnering with a startup like Pulse, pushing them to reach beyond the status quo and deliver a transformative experience. In this case adding value and propelling them toward their eventual acquisition by LinkedIn. Most times we're working with household names in a similar fashion, constantly stretching the boundaries of what's possible in the digital space. When the end result is a net improvement in the user's digital quality of life, that's a win-win.
3. Quality over quantity.
This is our mantra, and we apply it to our work, the clients we choose to work with, and our staff as well. Our ideal target employee is someone who has paid their dues, and brings a skill set second to none. You've studied hard, perfected your methods, and are ready to be a part of something truly amazing. This is not about beefing up your portfolio to make a quick jump elsewhere, this is about transforming 'work' into a career that you truly love and enjoy.
4. Home is where the Mac is.
Passion and dedication are not ruled by the clock, so we offer workspaces that are warm and comfortable, regardless of how long the day might get. It starts with the shoes coming off at the door, and extends to the lighting, furnishings, and well-stocked refrigerators. Weekly Fikas (Swedish for 'coffee/tea break') bring each office together for snacks, treats, and often some spirited trivia competition. When your office feels like a second home, 'going to work' takes on new meaning.
5. Our clients are truly partners.
Regardless of our size, we bring a boutique mindset to client relationships. We seek out and work with those clients that respect our process, and are ready to create something meaningful and long-lasting. A mutual exchange of ideas brings us closer, but it's the mutual trust and respect that deepens the relationship and drives us toward truly evolving their business in the digital realm. We're proud to call some of the biggest household names, like Google, Microsoft, MTV and USA Today, not just clients but truly partners in our shared success.
6. We're fiercely independent.
Never beholden to a parent company, or shareholders strictly focused on the bottom line, we have the freedom and flexibility to do whatever we choose, creatively. We experiment, explore, stretch and push every boundary, constantly searching for the next big innovation or approach that will truly reshape what digital means in our everyday lives.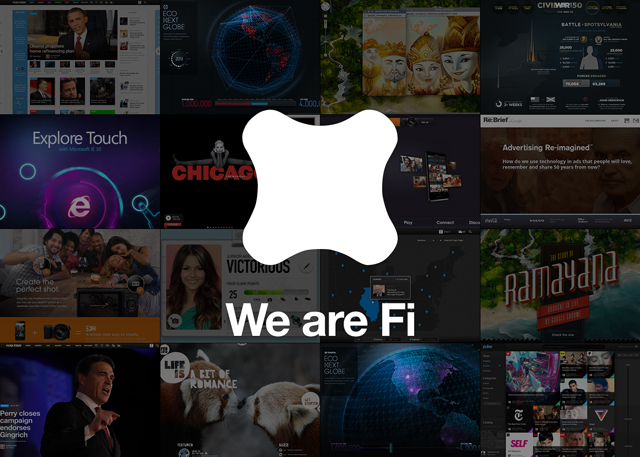 So there you have it. We're collaborative and comfortable, innovative and independent. But above all, we're collectively enhancing and elevating one another simply by working together within a system that supports growth and accomplishment, one project at a time. If you can't sincerely say the same thing about your current situation, we should talk.
We're growing quickly to meet our client demands and are looking for candidates up for the challenge. Current open positions include Creative Directors, Art Directors, UX Designers, Senior Producers and Lead Developers in both our NYC and SF offices. Please send your portfolios and resumes to Fi's Director of Talent Acquisition Nick Saricopoulos. And be sure to follow us on Facebook and Twitter for new positions that open up.