Here at Fi, we sometimes look at industry verticals such as travel through the lens of progressive disruption. So we asked ourselves, what is the future of the airline website?
The Case Study
At Fi we do not have a sales department. We simply rely on our work to generate brands from around the world to perhaps knock on our door. It's worked for 13 years.
However, there is one flaw. We have a wish list of clients and industries we would love to work with someday. Travel is one of those verticals. So we created a case study to show just a few ideas on how the Airline Website could be, well, just a little disruptive.
Now Boarding: www.F-i.com/Fi/airlines/

The Twitter & Press Reaction
The feedback has been positive and somewhat more viral than we may have expected. The comments seem to allude that we are moving in the right direction and as a creative community we seem to all agree that progressive disruption is needed within the travel space. Wired, .net Magaizne, Creative Bloq, Design Taxi, Adverblog & Tnooz seem to agree.
Here are a few comments on Twitter (July 23rd) from you: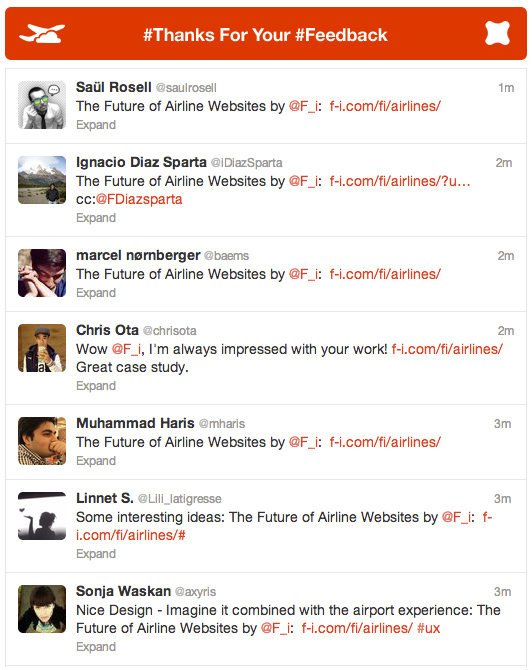 About Fi
We are Fi. A Digital Design Agency that specializes in the architecture, design, and development of award-winning digital experiences. With a specialized focus in creative strategy and interaction design, we approach engagements with a heavy bias towards aesthetics and innovation within the digital space. Founded in 1999, Fi continues to work with some of the biggest brands such as USA Today, Google, and Microsoft.