At Fantasy, we've always strived to produce world-class digital experiences. The real driving force behind these projects has always been our UX team.
Applicants often want to get a picture of what our UX process is like and what makes it unique. So we thought we'd share some insights into UX here, the thinking that drives our teams' and the passion we share for creating compelling, digital experiences.
It all starts with the right people
Step into the offices in San Francisco and New York. The first thing you'll notice may well be the buzz of project work happening all around you, teams on planning calls with clients and others enjoying a game of pool.
Wait a little longer and you'll probably start to feel it.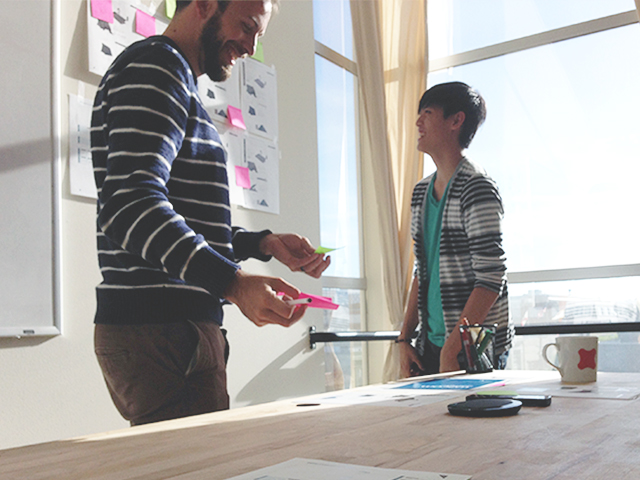 Striving for great UX seems to be more than just the day job for some. It's an obsession. Join us for a drink after work and it won't be long before we're dreaming up new What If projects or warmly debating new UX ideas. What's makes coming into work on Monday morning at Fantasy special, is sitting down with a diverse team of people who inspire you with the passion they have for what they do.
It takes the right process
How do you take on a design project at scale – with hundreds of moving people and parts. There's no science to the perfect process and we're always learning. However, with a few site redesigns and product overhauls under our belt, there's a few things we've learnt about hitting the ground running and setting ourselves for success.
Our design tools help us find new ways for us to engage with people (we love InVision, Optimizely, Analytics, Mural.ly, Scala Preview, Axure and Illustrator to name but a few). However, underpinning it all is a desire to use everything at our disposal to solve real problems for real people. For us, great design isn't simply about the beautiful interactions or aesthetics of the finished result – it's about elegantly meeting the needs of the people we are look to serve.
It takes the right clients
No matter how good a UX team – it takes more than passion to see world-class ideas come to fruition. We feel very lucky to be working with some truly inspirational organisations. The right client is often the difference between great ideas flourishing or being left on the shelf.
At Fantasy, we find that clients don't come to us and set marching orders – they're here to collaborate. We work with passionate stakeholders who love chewing over problems as much as we do. From Google and Skyscanner to Kayak and Balenciaga, almost all of our clients come to us with a shared passion for creating extraordinary experiences.
With the right clients behind us, we find we have real ownership over projects. UX drives the way as we get to help set project visions, define process, prototype, test and see creative ideas become reality in digital products used by millions.

Connect with us
We love meeting new people with a passion for great design (no matter where you work). Connect with us on Twitter, Facebook or Linkedin or simply email us to say Hello and talk UX over pool.
Those of you that are looking for something new (freelance or full-time)?
We have some open positions today. If you think Fantasy might be for you.
About Fantasy
Fantasy is a User Experience Design Agency based in San Francisco and New York. We offer digital strategy coupled with award winning UX and visual design. We help our clients concept, create, enhance next-generation digital products. We work for clients that want more than just a delivery. Fantasy provides services to a worldwide client base operating from our San Francisco and New York offices.