If a picture is really worth a thousand words, 2012 made us feel rich with stories. Here at Fi, we love sharing with the community an inside peek at our daily happenings. If nothing else, it's a moment in time which reminds us that though we share passions in all things digital, a picture, in an instant, can bridge human connection faster than any code or pixel.
The start of a new year always gets us a little nostalgic about the previous one. So let us reminisce and share the best, most engaging Facebook photos from 2012. These are the images that provoked you, that made you lean forward and notice, and yes, that you 'Liked' the most.
January – March
2012 started off with us working heads-down on the iOS voting app for the annual Nickelodeon Kid's Choice Awards. For over 25 years, Nickelodeon has hosted this star-studded event bringing kids – and an inordinate amount of green slime – closer to their favorite celebrities. From our alpha release in January to the app launch in March, a record-breaking 223 million votes were cast for the 2012 KCAs, a 10% increase from last year. And the app held top rank in the iTunes App Store for a week with solid, five-star reviews. Yeah, a great way to kick off the year, we'd say.
An added perk was attending the orange-carpet event and hanging with the celebrities. It's a dirty job, but somebody's gotta do it. Guten Tag, Heidi Klum.
Halle Berry like you've never seen her before.
Satisfying the world over with green slime, Fi's work here was done.
April – June
The second quarter of the year found ourselves speaking in Barcelona, Spain at OFFF, a three-day festival where notable international artists in graphic design, visual communication, digital arts and electronic music led workshops and presentations to inspire and be inspired. Fi's Global Director of UX & Strategy Irene Pereyra, Global Creative Director Anton Repponen and former Art Director Claudio Guglieri shared Fi work among cultural tastemakers to push innovation even further.
The conference even used Anton's headshot to promote this year's event.
We got a nice surprise in May when we were notified of our Webby award win for our Google Cannes Heatmap app we created.
Another bit of good news arrived in June when we heard we won a Cyber Lion from Cannes for Project Re:Brief.

July – September
At the start of the third quarter, we were on the road traveling across the Atlantic to prepare for Fi London Invasion. We were delighted to see such a great turnout with a full house and even people standing up in the back. Everyone was anxious to hear our case study work featuring Google Ramayana, Chrome Store and The History Channel's Civil War 150.
CEO David Martin's parents even got in on the action as well. Who knew invasions could be this much fun?
In August, we moved our speaking series to San Francisco and aptly called it Attack of the Creative Process. The SF turnout was just as successful as London's. People couldn't seem to get enough of our case studies.
Our speaking series posters have turned into a collecter's item. People ask us whether we sell them piece meal. It's something we're definitely pondering about now.
In August, drama occurred when a small electrical fire broke out in our NYC office server room. Thankfully, there were no casualties.
The fire could have been a lot worse were it not for Pete, our brave office manager, who contained most of the first even before FDNY arrived on the scene.
October – December
After some great nights in London, Stockholm, Moscow, Rzeszow and San Francisco, our creative speaking series came to New York City.
Our entire NYC office was preparing for the arrival of our guests. Additional chairs were rented. Over 350 pieces of sushi were ordered. And an Fi-branded candy bar was on display for people to take home sweet treats.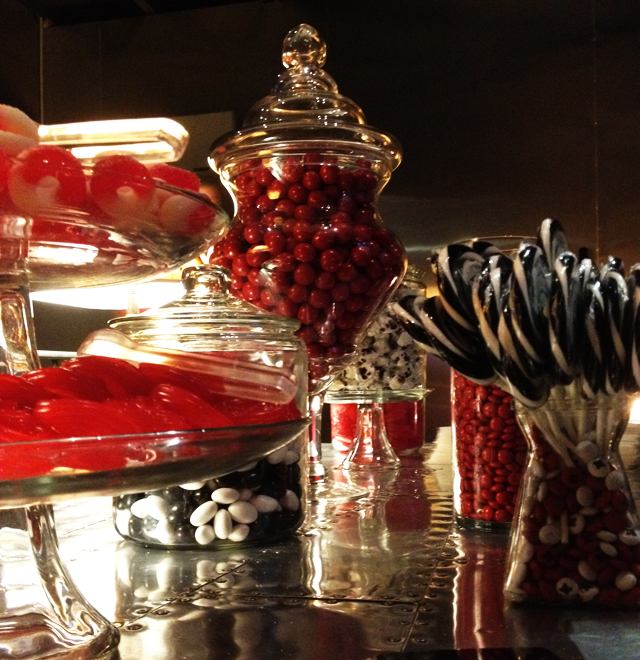 In addition to Irene and Anton speaking about our creative process within a project lifecycle, guest speaker Stephen Burgess, Fi developer, gave a lively presentation about WebRTC, one of the latest HTML5 features to hit the Chrome browser.
Tragedy struck the east coast in late October when Hurricane Sandy reigned down, causing all those affected to band together during this time of national disaster.
Fi did its small part by donating to the Food Bank for New York City.
As the holidays drew near, it was a reflective time to look back at another exciting, accomplished year and look forward to the promise and delight that 2013 would bring. Our offices began to get into the festive spirit.
All the work we achieved and all the awards won don't mean much without the people we work with day-in and day-out.  Even if that does means we end up dressing the same at our office holiday party.
Here's to many more memories and images captured in 2013!